Well, the end of the year proceeded pretty much according to plan. Stocks never took there foot off the gas as it was "Record Close!!!" after "Record Close!!!".
However, as I told someone yesterday be careful what you wish for. Consider this list of the 10 best performing stock markets in 2013 (via
Daily Telegraph
).
| | |
| --- | --- |
| Venezuela – Caracas Stock Exchange | 452pc |
| Japan – Jasdaq index | 51.1pc |
| Iceland – OMXI All Share | 38.5pc |
| Zambia – Lusaka Stock Exchange | 37.2pc |
| Ireland – Irish Stock Exchange | 35.2pc |
| Nigeria – Nigerian Stock Exchange | 34.9pc |
| Greece – Athens Exchange | 34.5pc |
| Argentina – Mercado de Valores | 33.9pc |
| US – Nasdaq index | 33.7pc |
| Pakistan – Karachi Stock Exchange | 31.8pc |
Source: Morningstar
Look at that list and tell me which one is not like the others....
1) Venezuela - their currency is falling apart, so your stocks might be up 450% but you can't buy a roll of toilet paper. Disregard this result.
2) Japan, Iceland, Ireland, Zambia, Nigeria, Greece, Argentina, Pakistan - Seriously? These were the best markets of 2013? They all have one thing in common - terrible economies (for the most part) and excessive levels of government debt.
3) The US Nasdaq (and the Dow/S&P weren't far behind) - So, if the common thread among all of these outperforming markets is - excessive government debt and weak economies I guess this makes sense. I'm not trying to be nervous Nellie but I think we should pump the brakes a bit on the whole "Hey, the stock market is fixed so obviously the economy is back!!" storyline that is getting pushed.
This should be the most worrisome chart you'll see this week -unless you've been charting your own weight during the holiday season :)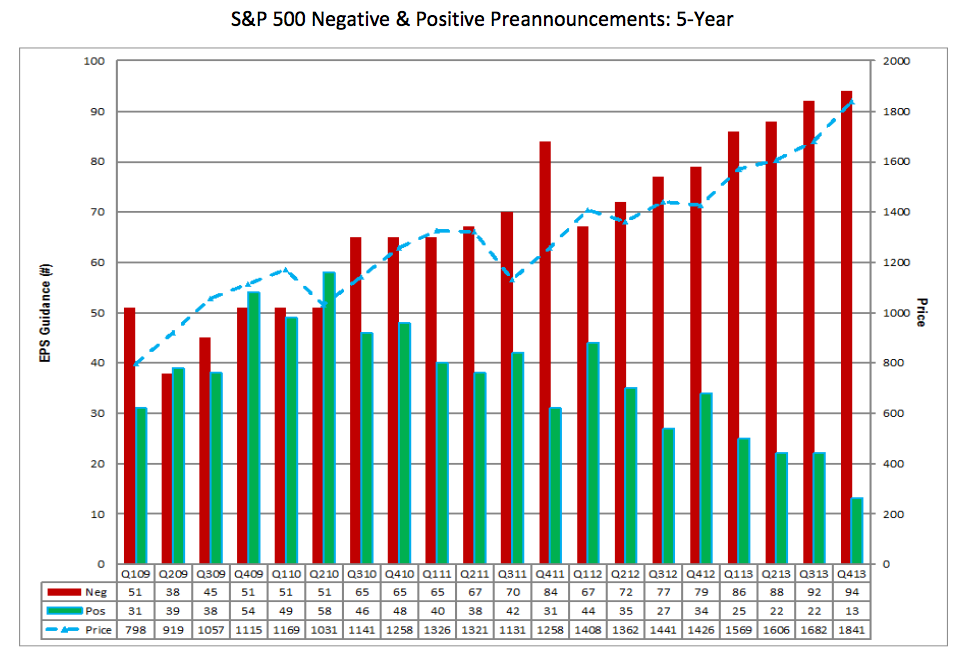 The red bar represents the number of negative preannouncements in a quarter and the green represents positive preannouncements. Ideally this should be a 1:1 ratio as it was for the most part coming out of the financial crisis. However, the spread has gone decidedly negative over the past 2 years and is currently the worst we've seen.
There are two take aways:
1) Businesses are really struggling to keep up with expectations for growth.
2) You could argue that this table means the Fed can't back away because the economy may be getting worse and thus stocks could keep going higher while the economy weakens further (see Japan).
Next year we'll catch Greece!!
**************************************************************************
Next up: The recovery of the jobs market: Fact or fiction?
Cheers!