After suffering the market's worst losses in 6 months on Tuesday, stocks shot back up on Wednesday and had their biggest intraday swing to the positive side in nearly 3 years. So obviously, today stocks would........ yep, you guessed it sell right back down to Tuesday's levels.
I've said before that I'm not a believer in charts, but many, many computer program trades are driven by the charts and frankly, things get really dicey about 2% lower from here. Here's my opinion and since it's free it's only worth what you paid :)
1) The global economy is hitting some air pockets. The Europe/Russian standoff is having an impact. China's credit bubble is starting to show cracks. Japan is, was, will always be in a state of permanent decline. It's hard to justify global stocks at all-time highs with this backdrop UNLESS
2) The Fed - and other central banks - are providing adequate liquidity to keep the markets moving. The problem is one major component of the Fed's strategy is coming to an end in October. At this point, it seems like a game of musical chairs and no one wants to be the last one standing when the only game in town takes their soccer ball and goes home for dinner.
3) The charts - stocks have been bought aggressively on every dip since 2010. Maybe this time is different, maybe not. I'd watch 4300 on the NASDAQ and 1900 on the S&P 500. Breaking through those levels opens us up to some real good old fashioned downside. I'm not calling for it yet, but the charts suggest that successive closes below 4300, 1900 brings long-term 200 day moving averages into play which are about 20-25% lower.
For now watch the overnight action and plan to buy the dips/sell the rips until that pattern changes :)
**************************************************************************
For a little perspective - here are the total # of deaths in the US estimated over the past 9 days via Business Insider. Perhaps we could get the media to spend as much time focusing on getting people to exercise, eat better, smoke less, get a flu shot and drive more carefully #smh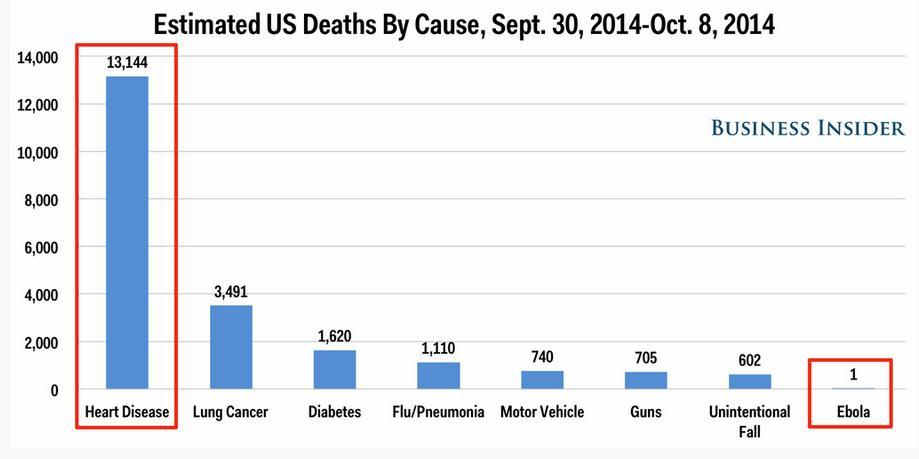 *******************************************************************************
From the "Please make it stop, my head hurts" file:
City employee driving in city vehicle hits her own personal car. Now suing the city for damages.
"B
y her own recollection, St. Paul Parks and Recreation employee Megan Campbell was driving a supply van back from a city storage building on the city's West Side when she turned a corner, causing serious front-bumper damage to a parked car.
The damaged 2001 Nissan Pathfinder in question wasn't just anybody's vehicle. It was her own.
Now, Campbell has filed a claim against the city seeking $1,600 to $1,900 from public coffers for damage caused to her personal vehicle by a city worker -- herself.
"Because I was working for the city and driving the city vehicle, I feel they are responsible for paying for the damage done to my car," Campbell wrote in a "notice of claim" form received this week by the city clerk's office."
There is no way Parks and Recreation on NBC doesn't steal this idea for an episode this year.
Cheers!