That they are keeping us inside...
Fever 333 - Burn it
**********************************************************
Tonight I just wanted to take a couple moments to highlight some of the ways that gross incompetence has become institutionalized in our nation. These are all stories that I came across just TODAY.
1) As I mentioned before, we need an army of contact tracers in the US to safely reopen. Probably 300,000-400,000 people to actively monitor our interactions and quickly identify the sick and their contact points. This requires nationwide coordination to be efficient and smart about the data collection.
However, efficient and smart are not words associated with Washington, so instead we are going to use the least efficient, most expensive option - hire a bunch of private contractors with no experience in public health working with different systems in different states.
Without any expertise leading this charge, the government is just throwing money at various solutions with no collaboration between providers.
2) The Justice Department sees ample evidence of fraud in the Small Business Administration's Paycheck Protection Program. Imagine that - throwing a trillion dollars at the banks without any strings seems to have brought fraudsters out of the woodwork #SMH
3) I don't even know how to explain this but apparently the Federal government is looking into ways to "make China pay" for the damage done to the US economy. The options allegedly include - removing sovereign protection so citizens could sue China directly (no mention of suing our own government for incompetence) or cancelling debt owed to China by the US.
I've half-joked that China might just make a meme to circulate that says - Nice internet and electric grid you have there. Shame if anything happened to it.
4) The Federal Reserve said it was going to expand its "Main Street" lending program (that name is ridiculous) to include companies with up to 15,000 employees and $5 billion in sales. You know small town, mom & pop businesses with $4.99 billion in sales and 14,999 employees.
5) This Buzzfeed story needs to be on the front page of every paper and website. This random guy with 70 followers on Twitter sent a tweet to the White House saying he could build ventilators. A few days later New York wrote a check to this cell phone engineer (with no apparent expertise in building ventilators) for $69 million or almost 3 times the average price of a top of the line ventilators. New York has since cancelled the contract but they won't say how much money, if any, that we've been able to get back.
I'll buy the pitchforks if anyone wants to protest this in Albany or DC.
***********************************************************
Fact of the day:
30 million Americans have now filed unemployment claims - roughly 1 in 5 working age adults - and yet, April was the best month for US stocks since 1987.
As someone wrote today, the first 30 million unemployed seemed to be good for stocks. The second 30 million may not be as good.
************************************************************
I haven't discussed the pension systems much because it tends to be a little wonky but read this honest assessment on why politicians consistently under fund pensions in favor of areas of government spending.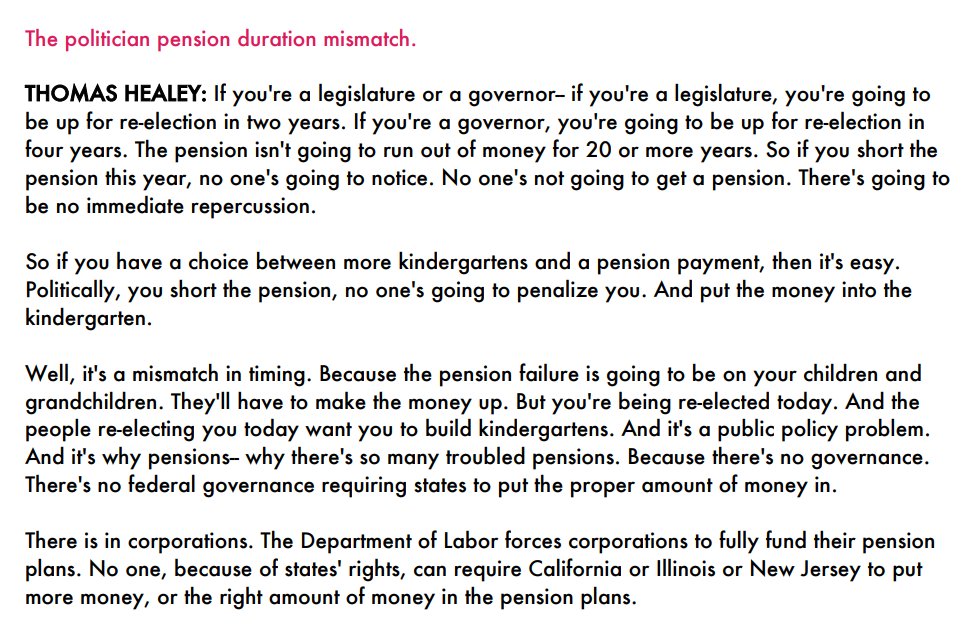 *********************************************************
Daily dose of humor:
via @homewithpeanut
Me, before kids: It might be cool to be famous.
Me, after kids: It might be cool to be one of those Dateline dads who fakes his own death.
via @sophielou
Today's Zoom meeting: Team No Pants vs. Team Muumuu Dress
via @difficultpatty
Quarantine meals: What am I gonna melt cheese on this time?
Cheers!