Welcome to the new world order.
Families sleeping in their cars in the Southwest
No home, no job, no peace, no rest.
Bruce Springsteen - The Ghost of Tom Joad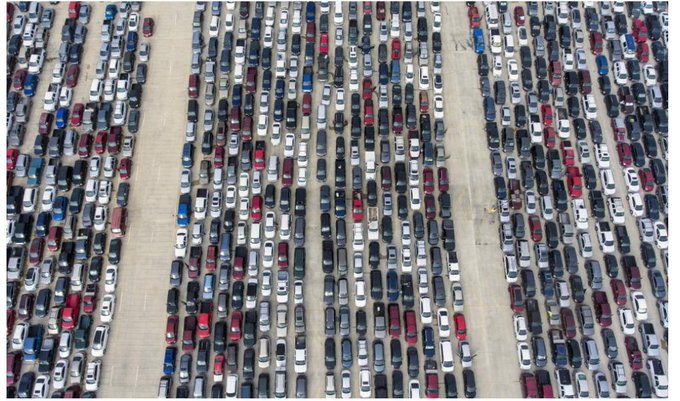 Food bank lines from San Antonio.
******************************************************
It always cracks me up that Bruce Springsteen will forever be associated with "Born in the USA" - which is actually a protest song - and still wrote the dark and poignant Ghost of Tom Joad (check out the RATM version as well).
*******************************************************
Markets
There was a slew of data out today which deflated the markets. Honestly, considering how grave this data was for the markets to only be down 2% was a sign of something. Consider first the initial look at retail sales data.
Motor Vehicles and Parts: -25.6%
Furniture: -26.8%
Food and Beverage Stores: +25.6%
Gasoline: -17.2
Clothing Stores: -50.5%
Sporting Goods Stores: -23.3%
General Merchandise Stores: +6.4%
Department Stores: -19.7%
Food and Drinking Places: -26.5%
Nonstore Retailers: +3.1%
When you look at those numbers keep in mind that is for MARCH when most of the country was still open. April will be unbelievably bad and as sad as it is to say, many retailers won't make it to Labor Day.
via @hedgeyesnakeye
This is a really specific data chart to the hotel industry but RevPAR is revenue per available room. So if you have 10 rooms and rent 8 of them at $100 each your Revenue ($800) per available room (10) is $80. These are mind-boggling drops.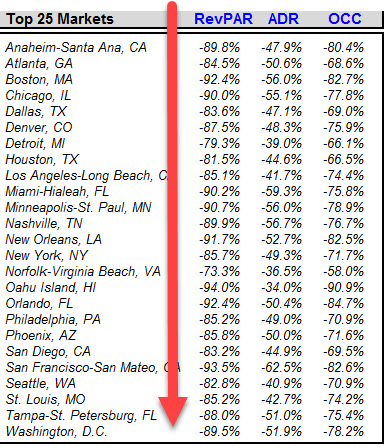 As we move forward one thing that is going to become more and more apparent is that the GINORMOUS, HUUUUGE bailout was principally geared to saving the those companies that would cause the most pain for the banks, not necessarily those companies that will save the most jobs or are the most critical to the economy. Over time as this becomes apparent, I worry that it will foster a greater divide in our country. I really want to be wrong with this prediction.
********************************************************
Bailouts:
NEW: SBA expects to run out of money for emergency coronavirus loans for small businesses imminently—*this afternoon,* sources tell me. The $349 billion in the PPP program is meant to help cover payroll.
This program with a $350 BILLION price tag didn't last a month. Probably because everyone under the sun somehow qualified as small business - Ruth's Chris Steakhouse? You know the giant chain that caters to wealthy? Yep, "small business" and got a loan. There are countless stories like that which will further sow divide when these stories become more widely known.
In related news, I know we can't be shocked by Congressional incompetence but this takes the cake. Congress has to oversee how we will spend some $2.2 trillion and so far they've appointed a team of 100 crack auditors, fraud detectives and financial geniuses??? No.
They have one guy.
ONE GUY who doesn't have an office and was an aid to Sen. Warren.
Hey, @elisestefanik, @senschumer, @sengillibrand - I'm free, HMU.
********************************************************
Quote of the Day:
via @raphaelbostic - Atlanta Fed Reserve
"What we are hearing from our contacts is that May is going to loom as a large month, in terms of the transition of concern from this being a liquidity issue -- one where we are really talking about cash flows...and whether companies can exist at all,"
*********************************************************
Daily Dose of Humor:
via @LurkatHomeMom
Where do you see yourself in 5 years?
Me: *envisioning a pile of ash sweeping thru a post apocalyptic wasteland* middle management I guess?
via @momsense_ensues
If this kid is in my classroom again come September, I'm quitting.
via @LhLodder
Today I worked from home, ran 10 miles, home schooled my kids, cleaned the house, made a delicious dinner, and got my kids to bed early. It's amazing what you can accomplish when you lie.
Cheers!