Well, you know
We all want to change the world"
The Beatles - Revolution
**********************************************************
You'll probably remember that earlier this week I noted that the $350 Billion Paycheck Protection Program lasted a mere 3 weeks. Shocking no one, banks funneled the money to their largest customers because they want to ensure the those companies benefited and it was the easiest way to earn their commission. Well, I was disappointed but didn't have much hope that anything could be done.
Ruth's Chris Steakhouse already had the $20 million.
Shake Shak already had the $10 million.
A number of diligent people started compiling lists of public companies who had received funding through the PPP. Shockingly, this news started to spread across the internet and it reached some reporters with clout.
Soon another list emerged that showed 32 public companies who had paid their CEOs in excess of $1 million and had taken funding from the PPP. The backlash was too much for even politicians to defend and late Thursday the program was amended to bar public companies from participating and roughly $650 million from public companies will return to the fund.
The problem is that is a tiny fraction of the money that went to large companies. We only know about the large PUBLIC companies who took funding. There are likely large PRIVATE firms who ate up the rest of the billions of dollars and we'll never be able to track that money. Either way, this is a small win for the little guy and it demonstrated the power of crowd-sourced information.
via @hedgeyeDJ "Capitalism without bankruptcy is like hockey without a penalty box"
********************************************************
Economy & Markets:
Just another week where new jobless claims were more than 6 TIMES THE PRE-COVID19 ALL-TIME record at 4.4 million.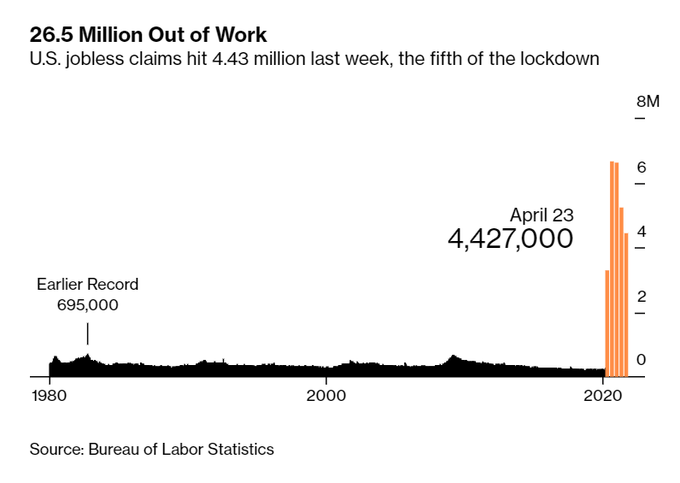 Some of this is a function of the type of jobs created since the mid-2000s. I've argued (unsuccessfully) that we should be looking at the "quality" of jobs not just the quantity of jobs. The Bureau of Labor Statistics views a new full-stack software engineer the same way it views a worker at Dunkin Donuts. Our society has had a lot more of the later in the past decade and those jobs are the first to be eliminated in a downturn.
This might be the most shocking chart you'll see. If you take the total of all jobs lost now in the past 6 weeks - 26.5 million jobs (16% of the workforce) - you realized we are back at 1998 levels of employment. Every job created from 1998-2020 - poof, wiped out in 5 weeks. As I've said before many of these jobs will come back immediately when service businesses return but it's still a staggering representation of the damage that has been done to our economy. Also, I'm going to try to remember to write something on the way the economy will bounce back when we look at the Chinese experience over the past 6 weeks.
Markets went nowhere again today and they remain stuck at the 2800 level. The next 3-4 weeks will be pretty telling for what the next move in the market will be up to 2900 and beyond or a break down below 2650.
******************************************************
Covid19
Compare our President's UV light & Lysol approach to Chancellor Merkel of Germany
"Nobody likes to hear this but it is the truth. We are not living through the final phase of this crisis, we are still at its beginning. We will still have to live with this virus for a long time."
Australia has elected keep its borders closed for another 3 days, check that 3 weeks, wait nope....um, is that right 3 months??? Huh. Sounds like they are not joining us in the grand reopening.
Also, people are starting to talk about what happens in a best case in the fall 2020. I'm seeing forecasts showing daily infection rates in the fall of about 1/3rd of what the peak infection rates will be this Spring. However, I don't know if that takes into account any further lock downs. I would say that a weaker resurgence in the fall is the most likely scenario but I don't think we can rule out an aggressive return of the virus and potential fall shutdowns (though I think the odds are very low - backlash against states that shutdown again would be huge).
************************************************************
Daily Dose of Humor
via @thealexnevil
Give the gift of sarcasm to a child and receive it back tenfold.
via @johnlyontweets
I watched my girlfriend use a disinfectant wipe to disinfect a package of disinfectant wipes and I think she may have created a rift in the space-time continuum.
via @unclebob56
They say a glass of water before meals helps curb your appetite. I've found donuts also work very well.
Cheers!