Bachman Turner Overdrive (what a band name!), Takin' Care of Business
*********************************************************
Markets and Economy:
There has been almost no reaction overseas to more Fed Chairman Powell's appearance on 60 Minutes (side note: I grew up on 60 Minutes and to watch that show turn into a PR machine is just sad. There is a need for a modern version of 60 Minutes where smart reporters can ask difficult questions). Interestingly, in the Powell interview he said that he felt unemployment could peak over 30%, but magically, that was edited out of the interview #SMH.
The US markets are currently up and the witching hour - midnight to 3am when most gains are made - might prove especially volatile tonight (since I wrote this markets have continued to power higher - stocks only move when you're asleep).
*** Update #2: There were 2 large futures trades at 3am and 4:45am which fueled a run in the pre-market. Then, one of the countless companies working on a COVID vaccine released preliminary phase 1 data of 8 patients and said they appeared to be creating antibodies (despite the fact that we don't know if antibodies do any good). That's all it took - markets soared in the pre-market and are now at a key technical point. If they stay up here, they may retest the highs. Good thing everyone is laid off and can just day trade, it's so much easier than working.
There certainly is a good vibe in the stock market right now. I suspect the "re-opening" of America has something to do with it as traders were able to get a haircut and go to Costco for flank steak again. However, I find that reaction odd because no one expected the lock downs to go on indefinitely, but I think the bigger question is what does reopening look like. Businesses will certainly tout the big bounce from opening and you will see lots of headlines like "Starbucks sales jumped 500% last week" or something. The reality is if you had a store selling $100 of goods/day, that fell to $5/day during the lock down, it might bounce back to $25 and yeah, that is up 500%, but you're still down $75/day.
My point is that there remains a wide disconnect between what Wall Street and Washington believes and what is happening in the real world. Real businesses are planning for a recession far worse than 2008. When I talk to people in the service/manufacturing section of the economy (ie, not Wall Street), they see bankruptcies, massive waves of unemployment, second and third derivative impacts that no one has factored in to any forecasts. This makes me think that we are not at the beginning of the end, but rather at the END OF THE BEGINNING of the COVID Economic Crisis.
Other stats:
The St. Louis Fed Q2 GDP forecast is now at -48%. That's not missing a decimal point.... -48%!
Quote of the Day:
@NorthmanTrader
Reality check:
By the time this is all over the poor will be poorer, the middle class smaller, the country horrifically in debt, unemployment much higher than before and the top 1% will be largely fine.
Do not underestimate the long term impacts of this ever increasing divide.
***********************************************************
COVID19
I'm going to summarize a thread from @jeremykonyndyk which really makes it easier to understand why we've taken the precautions we have and where we are falling short....
1) Imagine it is summer swim season and some child has an "accident" in your local community pool. What happens next? The lifeguards clear the pool, the low man on the totem pole has to remove the offending matter, they shock the pool and everyone waits 30 minutes to return to the water.
2) However, what if the lifeguards clear the pool, but don't remove the offending fecal matter? No one can return to the water, right? Whose fault is it that you can't return to the water?
3) What if the lifeguards told you "Look, just get back in the pool. Be a warrior."?
4) Right now, the US is a giant pool with an accident floating around. Leadership is telling you to get back in the pool rather than focusing on fixing the issue. They are on TV telling you every day, that the problem is that all of these soft people just won't jump in a bacteria filled pool.
5) The shift in narrative is to focus on those that don't want to swim with fecal matter instead of focusing on the people who didn't get rid of the fecal matter.
6) Everyone wants to get back in the pool (re-open the country) but we'd just like to make sure it's free of fecal matter first, okay?
Sorry, I promise that will be the last discussion of fecal matter on this blog :)
The new death rate line may tilt upward this week and will bear watching.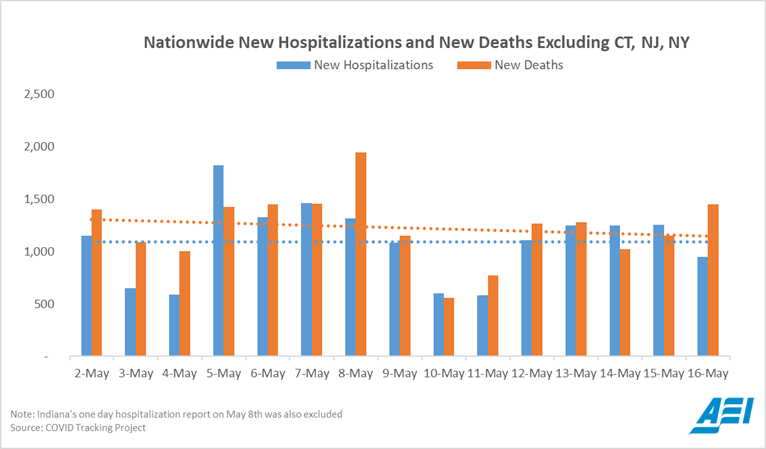 ********************************************************
Daily Dose of Humor:
via @jillboard
My ears are currently carrying sunglasses, headphones, and a face mask.
Ears are a purse.
via @aotakeo
our toddler called my wife "chunky" and none of us will survive this
I wonder what kind of stuff the person who figured out you can make cake in a mug in the microwave was going through.
Cheers!