Aww, *$@& it, just give me death (and murder hornets).
Motionless in White - Brand New Numb
********************************************************
This seems to sum up the consensus after 6 weeks of lock down for 40% of Americans. We have smart people trying to save American lives while protecting as many jobs as possible but Karen and Kevin are asking to speak to the manager because the can't go shopping at the mall.
1) COVID19
- Well, it's a good thing COVID19 is behind us and we can open up... wait, what's that? We had a new peak in deaths on FRIDAY?!?!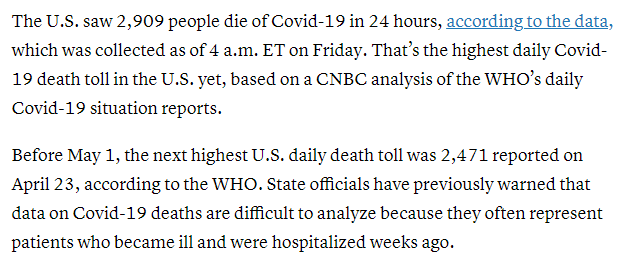 Yes, we know the data is complicated to analyze but as I've pointed out before, the risk is not that we are attributing too many deaths to COVID19 but rather too few.
2) Flight polls
- I saw an informal, unscientific poll circulate on the internet this weekend but it went around to a lot of people in my industry (15,000 responses). The question was - when we open up when will you fly again? The top choice with 30% of responses was "Over 1 year". Followed by 6-12 months at 27% and immediately at 25%. It's hard to predict how people will respond to the opening but I do feel that the way other countries have re-opened reflects this reality. Those expecting a sharp economic recovery are going to be stunned by how long it takes some industries to recover.
via @etmross - Los Angeles Airport at 2pm Sunday 5/3
3) Random scary fact of the day
- Chicago has had more murders in 2020 through May 3 than they had for all of 2019. Is social unrest a cause? Drug supply chain disruptions?
4) Random MUCH SCARIER quote of the day
- via @therealfly - World Food Program executive director David Beasley says
that an emerging "hunger pandemic" could result in 300,000 deaths per day globally. The aid organisation estimates that the number of people suffering acute hunger could increase from 135m to 265m by year end.
This is not like the news you'll start seeing of poultry, beef, pork, egg shortages in US grocery stores. That story is one that will get clicks - Is your Memorial Day bbq cooked by COVID? - but that's a temporary disruption of meat processing plants. In Africa and Asia the disruption of the food supply chain is very real and many people live on the edge of acute hunger. This will be something to monitor closely.
5) China playing 4D Chess
- the US outsources all manufacturing to China. We then need masks to protect our healthcare workers and citizens. Buy masks from China and find out....via @deltaone
"MIT TESTS FIND ONLY ONE-THIRD OF CHINESE KN95 MASKS PERFORM SIMILARLY TO N95S"
"NIOSH FINDS SOME CHINESE-MADE KN95 MASKS FILTER AS LITTLE AS 15% OF PARTICLES"
6) Quote of the Day
- "In a solvency crisis, companies can't survive no matter how much they can borrow:
they need more revenue.
The Fed can't solve that." Greg Ip, @WSJ
7) Remember scale matters when you hear your government toss around numbers in millions, billions and trillions.....
A million seconds - 11.6 days
A billion seconds - 31.7 years (I was in high school)
A trillion seconds - 31,700 years ago. The last ice age was just starting.
The point is that $4 trillion dollars is a lot of money.
***********************************************************
Markets
- This going to be a very interesting week for the markets. Without getting too far in the weeds, the big bounce from March 23rd ran straight into technical resistance on Wednesday of last week (the day I introduced my family to all of the really bad words that I learned while working on a Wall Street trading desk). Breaking through that resistance was the key to further gains, but the market tagged and rejected that line. May and June will continue to be a battle for headlines in the markets - record interventions vs. a record economic collapse.
At some point this will resolve itself over the coming two months and I suspect by July 4th we will have a clear understanding which direction we are heading in long-term.
*************************************************************
Daily Dose of Humor:
via @mastrap84
Kids don't care what their parents do or have done in life. I could cure cancer and my kids would be like LET ME TALK TO YOU ABOUT MINECRAFT, PEASANT
via @comicshey
netflix:
are you still there?
me:
i'm literally not allowed to leave
via @aikiwomannc
Me:
I'll take "WTF now?" For $1000
Alex Trebek:
The answer is "murder hornets"
Me:
What is Dear God it's only May 3rd and we still have hurricane season and the election from hell in November -- where is that damn planet ending meteor already?
Alex Trebek:
Correct.
Cheers!