Since it's been a few days I'm just going to share a bunch of quotes and data that I've read recently.
****************************************************
Markets:
It's been a busy period in the markets, trading right back up to the 61.8% retracement line (don't worry, this stuff is voodoo nonsense but it drives the majority of program trading so we have to be aware of it). When the S&P 500 soared for a week it hit 2940-2945 and stalled. This afternoon two stories hit the market, the Senate proposing new sanctions on China (ostensibly for human rights violations, but we know they are doing it to appear anti-China in re-election campaigns) and news that Los Angeles County does not expect to lift their shelter in place for 3 months. The rapid rise of the market had shaken out shorts and there were no natural buyers as stocks fell the next few days could get interesting.
*****************************************************
COVID Update:
* "We're not reopening based on science," said Dr. Thomas R. Frieden, a former director of the C.D.C. in the Obama administration. "We're reopening based on politics, ideology and public pressure. And I think it's going to end badly."
Since a lot of people have asked my opinion, I have an evolving position. I believe we should open sections of the economy that can be operated safely. The US should send 20 masks to every address in the US Post Office Database and social distancing will be the rule for at least the next year. Large voluntary gatherings (think sports, concerts, festivals, weddings) are off the table for 2020. Close-quartered activities like some manufacturing will have to be limited. Restaurants, bars, retail will be scaled way back. I understand the individual desire to risk your own life but this virus isn't likely to hurt you (if you're under 60 in decent health) it is the other Americans that you may kill through your actions. In that way, COVID should be treated like driving under the influence. Hey, you might get home okay after 2 beers or you might plow into a grandma at an intersection. You might catch COVID and be fine, but you might kill my daughter's grandmother because you needed your Sonic Milkshake.
While we are on the subject of infection rates it is important to note that as the country starts to open up cases in the US (ex, NY and NJ) are actually increasing not decreasing. My fear is that we will have a false open in May/June and as deaths spike, we have shutdown AGAIN in July. Psychologically, that would be very hard for the country.
"Just to see how simple infection-chains can be, this is a real story from Chicago. The name is fake. Bob was infected but didn't know. Bob shared a takeout meal, served from common serving dishes, with 2 family members. The dinner lasted 3 hours. The next day, Bob attended a funeral, hugging family members and others in attendance to express condolences. Within 4 days, both family members who shared the meal are sick. A third family member, who hugged Bob at the funeral became sick. But Bob wasn't done. Bob attended a birthday party with 9 other people. They hugged and shared food at the 3 hour party. Seven of those people became ill. Over the next few days Bob became sick, he was hospitalized, ventilated, and died.
But Bob's legacy lived on. Three of the people Bob infected at the birthday went to church, where they sang, passed the tithing dish etc. Members of that church became sick. In all, Bob was directly responsible for infecting 16 people between the ages of 5 and 86. Three of those 16 died.
The spread of the virus within the household and back out into the community through funerals, birthdays, and church gatherings is believed to be responsible for the broader transmission of COVID-19 in Chicago."
* Some of these stats are a little stale now after today's dip, but ""While the S&P 500 index trades 13% below its Feb 19 all-time high, the median stocks trades at a more substantial 23% below its high.
FaceBook (+3%), Apple (+6%), Amazon (+29%), Microsoft (+17%), and Google (+3%) have each posted positive returns while the index has returned -9%." Everyone loves to call these the Tech giants, but think about what they are -
Facebook is advertising
Apple sells very expensive tech toys
Amazon ships Walmart quality products (and runs the internet via AWS)
Microsoft is a tech company (and runs the rest of the internet through Azure)
Google sells ads that fund its tech adventures
* US Public Pensions went all in on stocks in November 2019 hitting their highest allocations since the Great Financial Crisis. Pensions then suffered a 13% decline in Q1 as stocks fell. Imagine.
* There is currently 165 million barrels of oil floating in oil tankers around the world (that's a lot).
* via @convertbond and Guggenheim - I had this conversation with a friend today. Remember when Ross Perot got Bill Clinton elected by accurately detailing our insane national debt levels in 1992? Do you know what the total national debt was then? $4.5 trillion.
We are going to issue more debt in 2020 than we accumulated from 1776 to 1992 or 216 years. These numbers might have to be updated to look even worse because the House is talking about another $3 TRILLION stimulus package and the April revenues vs. spending numbers were staggering (basically the Federal government took in $240 billion and spend $980 billion)
US Treasury Debt Issuance
2021: $4.10T
2020: $5.20T
2019: $1.10T
2018: $1.20T
2017: $0.60T
2016: $0.60T
2015: $0.65T
2014: $0.70T
2013: $0.80T
2012: $1.10T
2011: $1.1T
2010: $1.6T
2009: $1.5T
Net Marketable Treasury Issuance, Guggenheim
* People wonder why I never get any sleep - this chart shows the percentage of gains in the stock market that happen during regular hours (9:30-4pm EST) and overnight in futures trading (generally like 12am to 6am EST).
I pays to be a trader based in Eastern Europe :)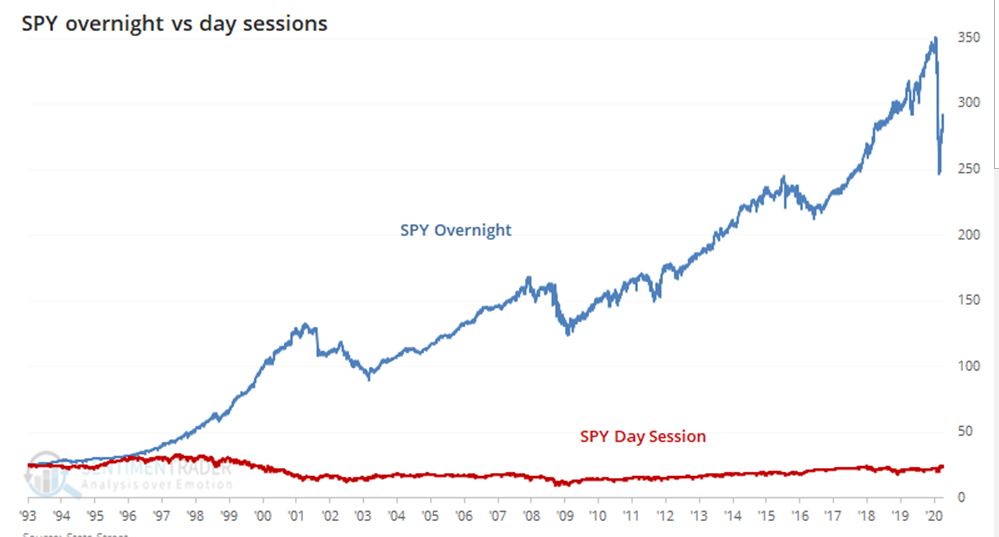 via @not_jim_cramer
*********************************************************
Daily Dose of Humor:
via @sixfootcandy
Kid: I want a piñata for my birthday.
Me: *handing him a stick* I'm pretty sure your dad has some candy in his pockets.
via @cheesedaydreams
The first 37 years of dieting are definitely the hardest.
via @bartandsoul
A book club, only we eat pizza and do shots until we pass out
Cheers!